WITH EVERY UMBRELLA, FREE GIFT 1 NUI KOPU! The gift 19.90€ value will be automatically added to your order, so you have nothing to worry about!

Lightweight and practical beach umbrella with no tilt made of 100% recycled fabric (R-PET) from 53 plastic bottles with innovative features that provide comfort and UPF 50+ sun protection at the beach. Light aluminum pole for easy transportation and fabric with sun protection coating. Ideal for wind, as it offers wind resistance up to 7 Bf. Dimensions: 200 cm diameter.
WHAT IS RPET FABRIC
The RPET Fabric (Recycled PET Fabric) is a new type of recycled textile, which is environmentally friendly.
Its fibers are made of recycled plastic bottles and they formulate a green and durable product.
For a sustainable world, choose Terra Nation RPET Beach Umbrella for your summer vacation and be an active member of the global eco – friendly community.
By getting RUA KIRI PLUS RPET, you reduce plastic waste . 53 plastic bottles don't end up in landfills, but they actually gain a different shape & a new life!
100% recycled fabric, made using 53 recycled plastic bottles
UPF 50+ sun protection
Wind resistance up to 7 Bf (54 Km/h) according to laboratory tests following the ISO 5912:200
T-shaped rib tips for injury protection
Ribs with loops for receiving extra support cords
Innovative three pole system packing for smaller size during transportation
Under canopy storage compartment
Top vent for improved air circulation
Hooks on slider for hanging objects
Carry bag with ergonomic zipper and shoulder strap
Pegs and cords included for extra stability
Weight: 2.4 Kg
Dimensions closed: 14x76 cm
Dimensions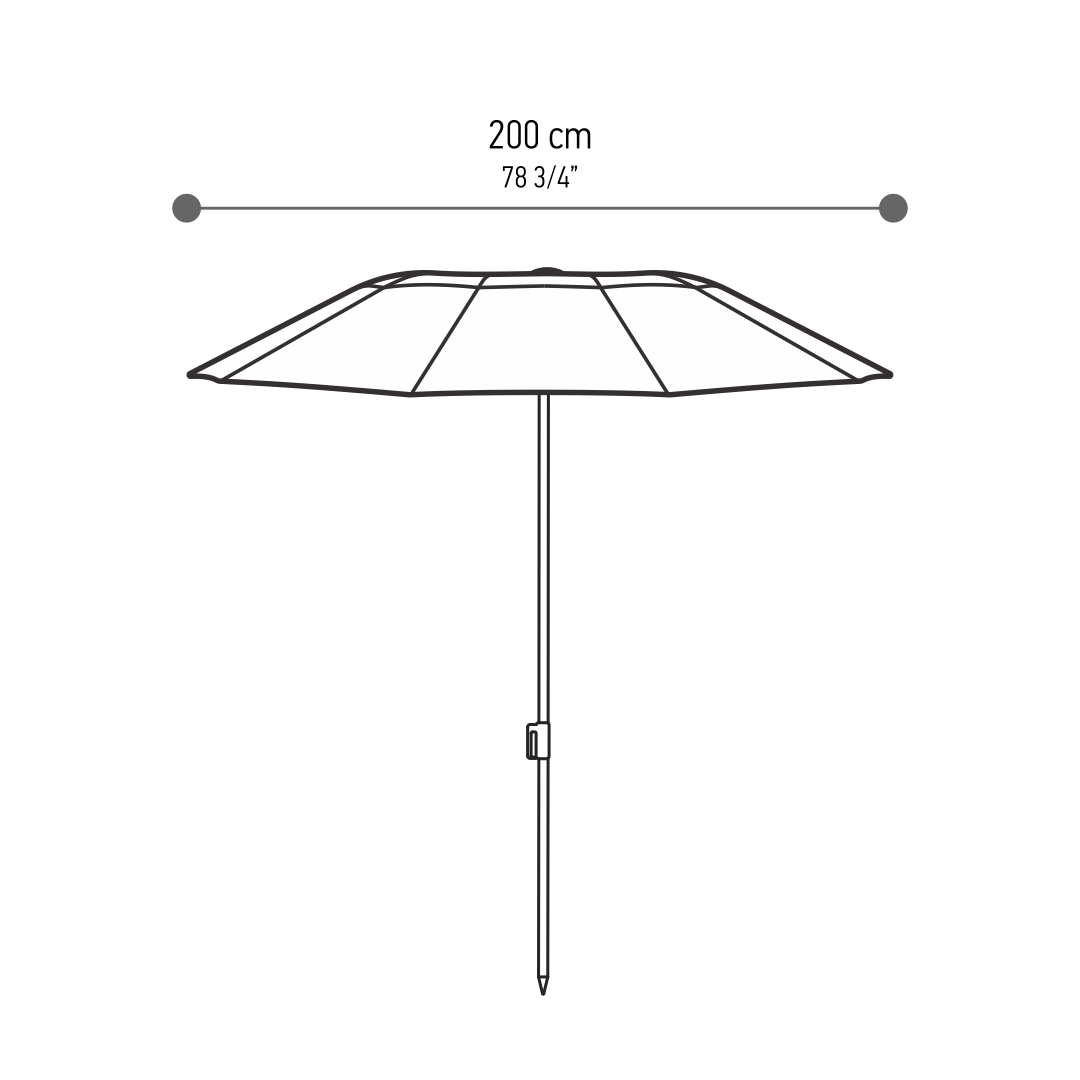 Material
Fabric: 100% recycled PET, UPF 50+ sun protection with silver coating Ribs: Steel 3.2mm (D) + Fiberglass 6mm (D) / 10 pcs Pole: Aluminum 28mm (D) / 2pcs – Aluminum 32mm (D) / 1 pc Wind resistance: up to 7 Bf (54 Km/h) according to laboratory tests following the ISO 5912:2003 / clause 4.2.8.3 standard adapted by Terra-Nation to umbrella design WARNING: In case of using a hammering stake to stabilize the umbrella into the ground, insert the umbrella pole into the stake for at least 30 cm and don't use the extra stability pegs and cords